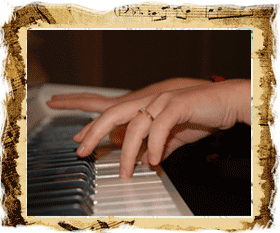 Unterhaltungsmusik
Sie sind auf der Suche nach dem passenden musikalischen Rahmen für Ihre Veranstaltung? Stimmungsvolle Klaviermusik schafft jedem Anlass entsprechend eine elegante oder schwungvolle musikalische Atmosphäre.
Ob Firmenfeier, Hochzeit, Jubiläum, Geburtstagsfest, Party, Eröffnung, Dinner , Weihnachtsfeier oder Empfang: Ein umfangreiches Repertoire bestehend aus Evergreens, Pop- und Tanzmusik, Operetten-Klassikern, Musicals, Jazz-Standards, Barmusik, klassischer Klavier- und Opernmusik ermöglicht mir für jedes Ihrer Events den entsprechenden musikalischen Rahmen zu schaffen.
Konzertaufnahme
Home
Klavierunterricht
Unterrichtsmethode
Komponieren
Konzerte
Preise
Kontakt
Operetten
Musicals
Filmmusik
Jazz
Populär Musik
Feiertage
Klassische Musik
Franz Lehar

Die lustige Witwe
"Lippen Schweigen"
"Vilja-Lied"
"Das Vaterland"
Das Land des Lächelns
"Dein ist mein ganzes Herz"
"Wer hat die Liebe uns ins Herz gesenkt?"

Paganini
"Gern hab ich die Frauen geküsst"

Frasguitta
"Schatz ich bitt' dich, komm heut Nacht"

Jaques Offenbach

Hoffmans Erzählungen
"Barcarole"

La Perichole
"Can Can "

Johann Strauss Jr.

Die Fledermaus


"Ouverture"
"Mein Herr Marquis"
"Trinke liebchen, trinke schnell"
"So muss allein ich bleiben"
Carl Zeller

Der Vogelhändler


"Ich bin der Cristel von der Post"
"Schenkt man sich Rosen in Tirol"
"Ach ihre Reputation"
Emmerich Kalman

Die Zirkusprinzessin


"Barcarole"
Fred Raymond

Maske in blau


"Schau einer schöner Frau nie zu tief in die Augen"
"Die Julischka aus Budapest"
Carl Millöcker

Der Bettelstudent


"Ich knüpfte manche zarte Bande"
Frederick Loewe

My Fair Lady
"Ascot Gavotte"
"Wouldn't It Be Lovely?"
"The Rain In Spain"
"I Could Have Danced All Night"
"On The Street Where You Live"
"Show me"
"Get Me To The Church On Time"

Leonard Bernstein

West Side Story
"Maria"
"Somewhere"
"Tonight"

Jerome Kern

Roberta




"Smoke gets in your eyes"

Andrew Lloyd Webber

The Phantom of the Opera
"Angel of music"
"All I ask of you"
"The music of the night"
"Masquerade"
"Wishing you were somehow here"
"The phantom of the opera"
"Think of me"
"Wandering child"
"The point of no return"
"Down once more"

Cats
"Memory"
"The old Gumbie cat"
"Old Deuteronomy"
"The journey to the Heaviside Layer"

Evita
"Don't cry for me Argentina"
"You Must Love Me"
"High Flying, Adored"
"I'd Be Surprisingly Good For You"
"Another Suitcase In Another Hall"
"Oh What A Circus"

Michael Kunze und
Sylvester Levay

Elizabeth


"Ich gehöre nur mir"
"Wenn ich tanzen will"
"Der letzter Tanz"
"Elisabeth, mach auf, mein Engel"
"Boote in der Nacht"
"Der Schleier fällt"
Frank Sinatra

Breakfast At Tiffany's
"Moon river"

Celine Dion

Titanic
"My heart will go on"

Albert Lai

Bilitis




"Bilitis"

Various

Casablanca
"As time goes by"


Dr. Schivago
"Somewhere my love" (Lara's theme)

Blue Hawaii
"Can't help falling in love"

New York, New York
"New York, New York"

"Amelie"
"Angel"
"Kill Bill"
"Professional"
"Tears in heaven"
Joseph Cosma

Autumn Leaves

Scott Joplin

The entertainer,
Maple leaf Rag,
Original Rags (G-Dur),
The easy winners (As-Dur),
Peacherine Rag (Es-Dur),
Elite Syncopations (F-Dur)

George Gershwin
Rhapsody in Blue
Summertime
Fascinating Rhythm
He loves and she loves
The man I love
Various
Angel eyes
April in Paris
`Round midnight
As time goes by
Autumn in New York
Begin the Beguine
Bei mir bist du schön
Crazy little thing called love
Cute
Dark eyes
Days of wine and roses
Georgia on my mind
Hit the road jack
House of the rising sun
In the mood
It`s a sin to tell a lie
Lover man
Lover, come back to me
Lullaby of birdland
Memories of you
Misty
My foolish heart
My funny Valentine
New York, New York
Rock around the clock
Sunny
Summertime
Stardust
Softly, as in a morning sunrise
´S Wonderful
Someone to watch over me
St. Louis Blues
Smoke gets in your eyes
Take five
Take the "A" train
Tea for two
The man I love
Tenderly
Tennessee Waltz
The girl from Ipanema
The world is waiting for the sunrise
On the sunny side of the street
Over the Rainbow
You and the night and the music
You`d be so nice to come home to
When the Saints go marching' in
Beetles

Imagine
Let it be
Michelle
Norwegian wood
She
Yesterday

Cat Stevens


Morning has broken

Jean Martini

Plaisir D'Amour

Louis Armstrong
What a wonderful world
Richard Clayderman
"Ballade pur Adeline"
Abba

Maske in blau


The winner takes it all
Thank you for the music
Chiquitita

Friedrich Wilhelm
Gotter

Schlafe, mein Prinzchen, schlaf ein!

Freddie Mercury


Bohemian Rhapsody

Franck Sinatra
Strangers in the night
Moon river
My way
Something stupid
Elton John
Your song
Can you feel the love
Charles Trenet

La Mer

The Platters
(mus. Ande Rand)

Only You

Engelbert
(mus. Les Reed)

The Last Waltz

Pete Seeger

Guantanamera

Norbert Schultze

Lili Marleen

Gerhard Winkler

Capri Fischer

Daniel A. Robles

El Condor Pasa

Augustin Lara

Granada

Toni Ortelli

La Montanara

Sarah Brightman
& Andrea Bocelli

Time to say goodbye

Elvis Presley

You are lonesome tonight

Vangelis

Conquest of paradise

Austrian Pop Music
Griechischer Wein
Heast as net
I'm from Austria
Irgendwann bleib I dann dort
Various
A man and a women
Can't get you out of my head (d)
Feel
I just call to say I love you
I will always love you
Lady in red
Little Sister (Es)
Love me tender
Love story
Nothing gonna change my life for you
Pariser Himmel
Thank you
Binne Maja
Hijo de la Luna
Modern Talking

It's Christmas

Abba

Happy New Year

Al Bano &
Romina Power

Feliz Navidad

Wham

Last Christmas

John Lennon

Happy Christmas (War Is Over)

Shakin Stevens

Merry Christmas

Chris Rea

Driving Home For Christmas

Bon Jovi &
Jon Bon Jovi


Please come home for Christmas

Various
We wish you a merry Christmas
Weihnacht bedeutet so viel
O du fröhliche, o du seidige
Leise rieselt der Schnee
O Tannenbaum
Stille Nacht, heilige Nacht
Ihr Kinderlein kommet
Alle Jahre wieder
Fröhliche Weihnachten überall
Kling, Glöckchen, kling
Morgen kommt der Weihnachtsmann
Abreu, Ermil

"Tiko-tiko"

Abinoni,
Tomaso Giovanni
Adagio in G-moll
Bach,
Johann Sebastian
Largo "Air"
"Scherz"
Org. Präludium Es-Dur
Präludium, Toccata und Fuge D-Moll
Präludium C-Dur
Präludium Cis-Dur
Präludium Es-Dur
Gavotte
Minuet
Two-Part Invention D-Moll
Two-Part Invention A-Moll
Partita Nr. 3 for Violin-Solo
Präludium E-Dur
Gavotte en Rondean
Beethoven,
Ludvig van
Für Elisa
Mondscheinsonate
Bizet, Georges

Carmen


Habanera
Torrerador Song
Boccerini, Luidgi

Menuett from String Quartet

Borodin,
Alexander

Prince Igor


Polovetzian Dances, First Theme
Brahms,
Johannes
Ungarischer Tanz
Ballade Op. 118 Nr. 3
Ballade A-Dur Op. 118 Nr.2
Intermezzo Cis-Moll Op. 117 Nr. 3
Symphonie F-Dur Op. 90 Nr.3 3 Satz
Capua, E. Di

O Sole Mio!

Chopin, Frederic
Etude Nr. 1,3,13,14
Concert Nr.1 E-Moll
Mazurkas A-Moll, Cis-Moll
Impromptu-Fantasy
Walzer
Nokturne Es-Dur
Tristesse
Abschiedswalzer
Cottrau, Teodoro

Santa Lucia

Debussi, Claude

Cake Walk

Dvorak, Antonin

Humoresque

Fibich, Zdenek

La Poem

Gabriel-Marie,
Jean

La Cinquantaine

Gounod, Charles
(Bach, Johann
Sebastian)

Ave Maria

Grig, Edvard

Piano Concerto A-Moll
Albumblatt
Waltz in A-Moll from Lyric Pieces Op. 12

Peer Gynt
Anitra's Dance
Solveis's Song
The Hall of the Mountain King
March of the Dwarts
Morning

Haydn,
Franz Joseph
Piano Sonata D-Dur
"Surprise Symphony" Part 2
Ivanovici, Joseph

Donauwellen

Kreisler, Fritz
"Liebesfreud"
"Liebesleid"
"Schön Rosmarin"
Liszt, Ferenz
Ungarische Rhapsody Nr. 2
Ungarische Rhapsody Nr. 6
La Campanella
Liebesträume
Consolation
Mendelson, Felix

Frühlingslied

Mozart,
Wolfgang Amadeus

Symphonie Nr. 40
Türkischer Marsch
Eine kleine Nachtmusik
Horn Concerto K.447 3 Movement
Sonata für Klavier K.545 Sätze 1,2

Die Zauberflöte
"Der Vogelfänger bin ich ja"
"Dies Bildnis ist bezaubernd schön"
"Ein Mädchen oder Weibchen"

Mussorgsky,
Modest

Pictures at an Exhibition


Promenade
The Gate of Kiev
Pachelbel, Johann

Canon D-Dur

Paganini, Niccolo

Capriccio A-Moll

Prokofiev, Sergey

Love Of Three Oranges


March
Peter and the Wolf

Opening Theme

Puccini, Giacomo

Madam Butterfly


"Un bel di verremo"
Rahmaninov,
Sergey
Piano Concerto Nr. 2 C-Moll Op. 18 Par1-1,2 Themen Part 3
Piano Concerto Nr. 3 D-Moll
Präludium Cis-Moll,
Präludium D-Dur
Präludium G-Moll
Ravel, Maurice
Pavane pour une Infante de Funte (Pavane For A Dead Princess)
Bolero
Rebikov, Vladimir

Walzer

Rimsky-Korsakov,
Nicolay
Hummelflug
Scheherazade (Part 1)
Rossini, Gioachino

"Soirees musicales – La danza"(Tarantella)

Rubinstein, Anton

Melody F-Dur

Saint-Saens
Camille

Karneval der Tieren


"Un bel di verremo"
Samson et Dalila

Dalilas Arie

Scarlatti, Domenico

Sonaten

Schostakkovich,
Dmitriy

Piano Concertos Nr. 1, 2

Schubert, Franz
Moment Musikalien
Ave Maria
Impromptus:
As-Moll
Es-Dur
Ges-Dur
Schumann, Robert
Träumerei
Von fremden Ländern und Menschen
Piano Concerto A-Moll
Smetana, Bedrich

Symphonische Poem "Moldau"

Strauss, Johann
Karneval der Tieren
"An der schönen blauen Donau"
"Geschichten aus dem Wienerwald"
"Wiener Blut"
"Rosen aus dem Süden"
"Frühlingsstimmen"
"Künstlerleben"
"Morgenblätter"
Tschajkovsky, Piotr

Serenade for strings
Nocturne
Piano Concerto B-Moll Nr. 1

Nussknacker
Tanz der kleinen Hirten
Blumen Walzer
Chinesischer Tanz
Marsch

Schwanensee
Schwan
Tanz der kleinen Schwanen
Neapolitanisches Lied

Verdi, Giuseppe

Nabucco
Gefangenenchor

La traviata
"Libiamo" - "Drink song"
"Di provenza"
"Sempre Libera"

Rigoletto
"Caro Nome"
"La donna e mobile"


Aida
Triumphal March

Vivaldi, Antonio
The Four Seasons
Spring
Autumn
Summer